LEGO – THE MIGHTY BOWSER! #4
Select Number of Tickets:
Share this draw with your friends:
COMPETITION ENDS: Friday 24th March @ 1pm
LIVE DRAW STRAIGHT AFTER @1.30pm
THE PRIZE WILL BE DRAWN REGARDLESS OF TICKET SALES, GUARANTEED!
THE MIGHTY BOWSER – NEW LEGO SET JUST RELEASED!
ONLY 99p PER TICKET!
MAX 20 TICKETS PER PERSON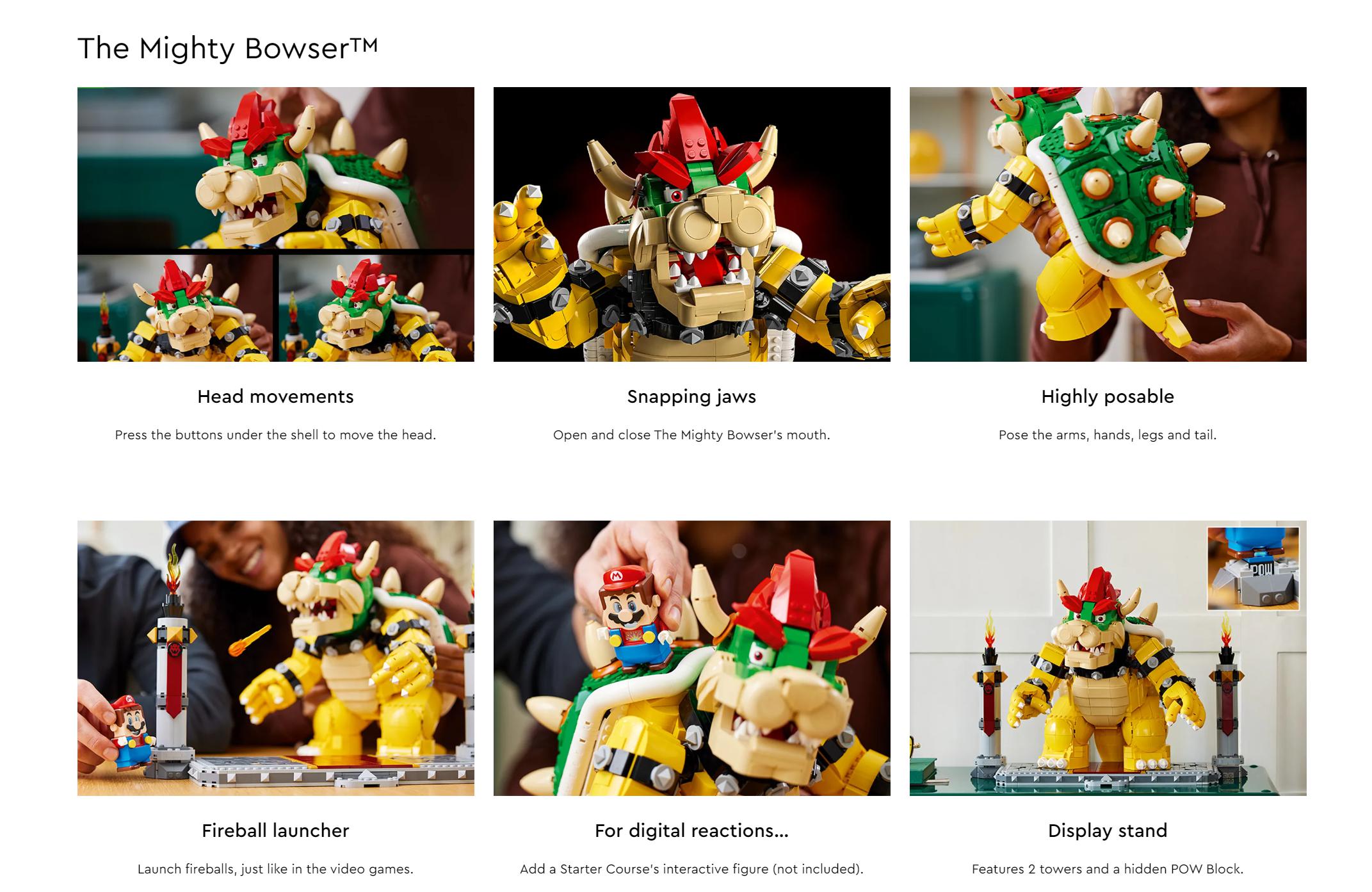 Appreciate the king of the Koopas when you build, display and play with LEGO® Super Mario™ The Mighty Bowser™ (71411). This buildable figure uses new-for-October-2022 LEGO elements to recreate the look of Bowser's spikes and has many features, including a fireball launcher and a button to control Bowser's head and neck movements. His arms and fingers move too!
Interactive play
Display The Mighty Bowser on the brick-built battle platform, which has 2 towers for him to knock over, a hidden POW Block and an Action Tag. Combine The Mighty Bowser and the platform with a LEGO Super Mario Starter Course (71360, 71387 or 71403 – sold separately) for battles with LEGO® Mario™, LEGO® Luigi™ or LEGO® Peach™. A great gift for any Super Mario™ fan and fun for all the family, this set includes step-by-step instructions to guide the complex build.
Welcome to your zone
Look out for other LEGO Sets for Adults in the collection. Whatever your passion, there is an inspiring building project waiting for you.
Buildable model of Bowser for display and play – Celebrate the ultimate Super Mario™ boss with this detailed LEGO® brick-built The Mighty Bowser™ (71411) figure for display and play
Create different poses – Control Bowser's head and neck with a button under the shell, open and close the mouth, pose the arms, hands, legs and tail and activate the fireball launcher
Battle platform with a POW Block and 2 towers – The platform has a hidden POW Block for enhanced play with Starter Courses (sold separately) and 2 towers that are designed to be knocked over by Bowser
The Mighty Bowser™ display piece – This LEGO® Super Mario™ character model, including the display stand, measures over 32 cm (12.5 in.) high, 41 cm (16 in.) wide and 28 cm (11 in.) deep
Interactive play – Stomp on the battle platform's Action Tag with LEGO® Mario™, LEGO® Luigi™ or LEGO® Peach™ (figures not included) for battles with The Mighty Bowser™
Gift idea for fans – This 2,807-piece LEGO® building set makes a fun birthday present, Christmas gift or special treat for Super Mario™ fans.
More Competitions Available:
Everyone who buys a ticket on ANY prize gets entered in to a weekly Runner-Up Draw! More Chances to Win @ JAMMY!
Keep up to date with this prize and other special offers >