BRAND NEW LEGO LOOP COASTER! #1
Select Number of Tickets:
Share this draw with your friends:
COMPETITION ENDS: Friday 25th November @ 1pm
Live Draw @ 1.30pm
THE PRIZE WILL BE DRAWN REGARDLESS OF TICKET SALES, GUARANTEED!
TICKETS ONLY 99p EACH!
Max Tickets 35 Per Person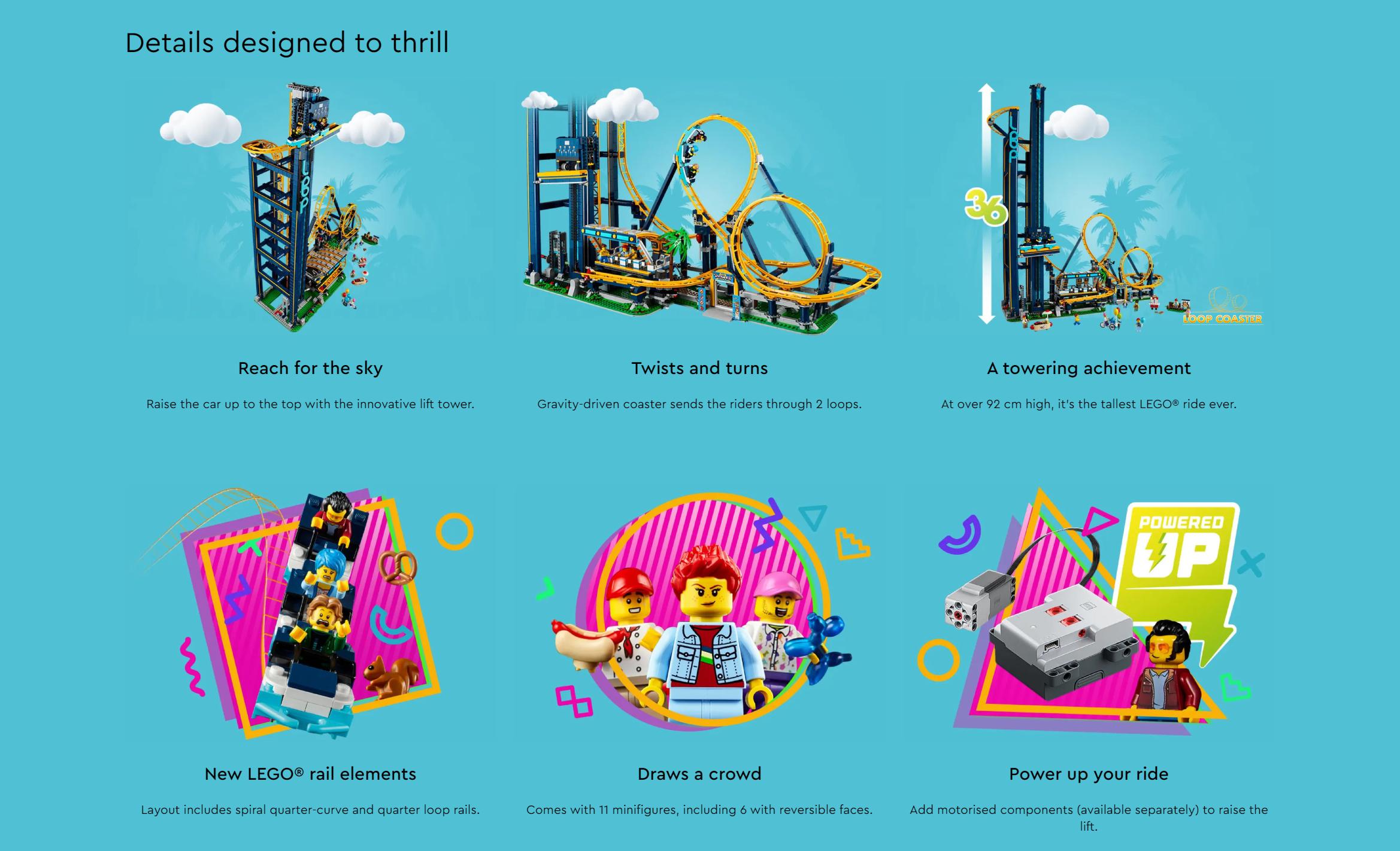 Prize Details:
Take your seat. It's time to relive the thrills of your favourite rollercoaster rides. But wait – there's no rush. This LEGO® Loop Coaster (10303) is a building project for adults. So take your time crafting all the details of this functional roller coaster model.
Twists and turns
The gravity-driven roller coaster comes with 1 train and a boarding station with opening barriers and a control panel. Lower the bars to secure the riders into the roller coaster carriages. Then release the brake to send the train to the foot of the elevator lift. Activate the elevator lift and enjoy the ride as the carriages whizz through the roller coaster's loops and turns. Upgrade the coaster with LEGO Powered Up (available separately) for a motorised elevator lift. Accessories include a park bench with a map, balloon cart, pretzel cart, hot-dog stand and height marker.
Where will it take you next?
Spend quality time with advanced LEGO sets, created especially for adults who love immersive builds and impressive display models.
A roller-coaster build for adults – Expand your LEGO® Fairground Collection with this collectible LEGO Loop Coaster Building Kit (10303). A project for adults and a gift idea for amusement park lovers

Power up your coaster – Designed with reality in mind, this buildable model is prepared for LEGO® Powered Up (available separately) so you can upgrade the roller-coaster with a motorized elevator

Fairground details – Accessories include a park bench with map, balloon cart, pretzel cart, hot-dog stand, height marker and a covered boarding station with opening barriers and a control panel

11 minifigures – Includes a ride operator, balloon seller, pretzel seller, hot-dog seller, a grandma, a young boy, and 5 riders. 6 of the minifigures have reversible heads to show different emotions

Build a display piece – Place on display to admire the many details packed into this fairground model

A roller-coaster gift – Treat an amusement park lover or adult LEGO® builder with this set, which offers a building project to enjoy, plus a collectible display piece to cherish

Dimensions – Model measures over 36 in. (92 cm) high, 33.5 in. (85 cm) wide and 13.5 in. (34 cm) deep
More Competitions Available:
Everyone who buys a ticket on ANY prize gets entered in to a weekly Runner-Up Draw! More Chances to Win @ JAMMY!
Keep up to date with this prize and other special offers >